LATEST GAMBIA FISH CATCHES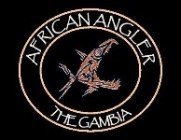 PHOTO GALLERY ARCHIVE (below)

1. Fish Catches: Main Page
2. Fish Catches: March/April/May 2010
3. Fish Catches:January/February 2010
4. Fish Catches:October/November/December 2009
5. Fish catches: End May/June/July 2009
6. Fish catches: March/April/May 2009
7. Fish catches: January/February 2009
8. Fish catches:October/November/December 2008
(Featuring the Giant Cuda's - Size does matter!)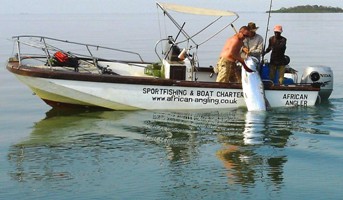 200lb+ Tarpon caught in The Gambia River by UK angler, David Bate on December 6th 2009. The fish was released. (Cpt. Bala Moses)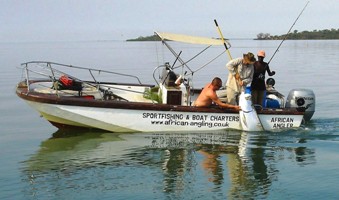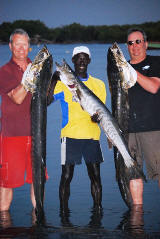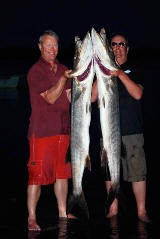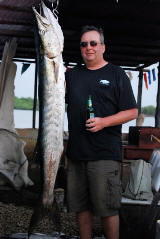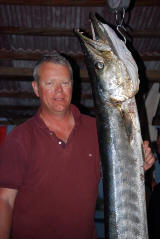 Above: 48lb and 46lb Guinean Barracuda caught in the Gambia River. Anglers: Peter Baynham and Mark from the UK (Cpt. Assan)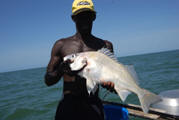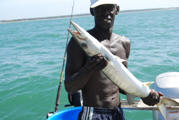 Captain Assan (aka Ninja) with Sompat Grunt and Guinean Barracuda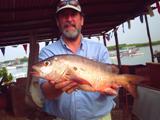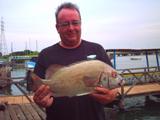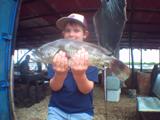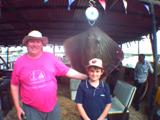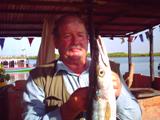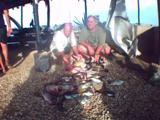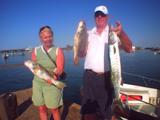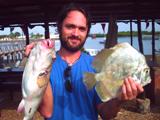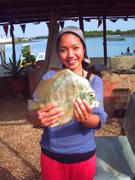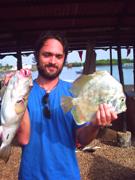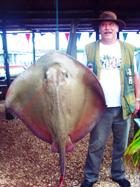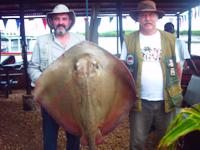 Geoff and Sony with 70lb Stingray caught on Mantel Reef with Cpt. Bala Moses - (Nov)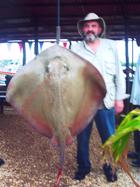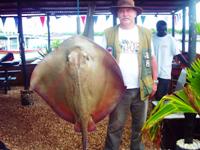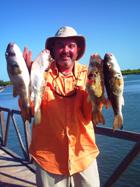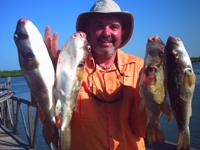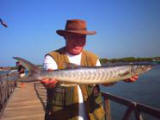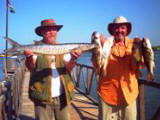 Above: Geoff & Sony with Butterfish and Barracuda's caught off Mantel Reef - Cpt. Bala Moses - (Nov)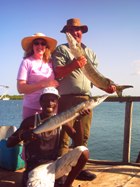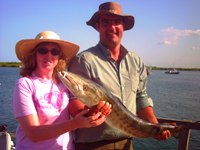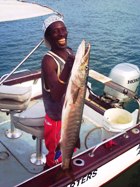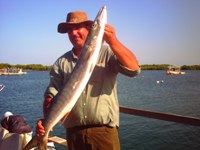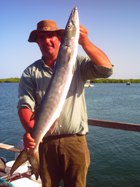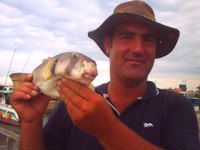 Above: Glynn Workman & partner, with Butterfish, & Cuda's caught on Cape Point Reef with Cpt. Dembo - (Oct)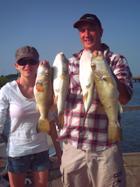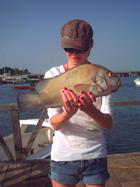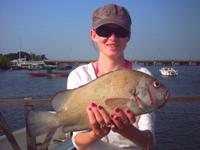 Above: Robbie Swindell and Jay with Butterfish and Thick-lipped Grouper caught off Cape Point Reef with Cpt. Dembo - (Oct)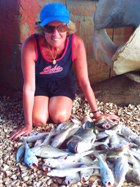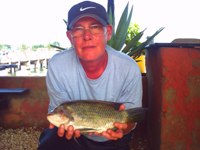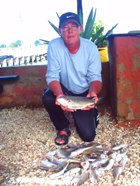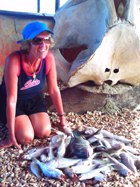 Above: A fun day out on the creeks, Terry, George, Karen with Cpt. Dembo and a variety of species. (Oct)
| | |
| --- | --- |
| Angler/s | Simon & Chris from Grantham, UK |
| Fishing dates | 1st/2nd/4th/5th October 2009 |
| Cpt | Assan |
| Sea/Weather cond. | Calm throughout |
Catch report in brief
Chris and Simon from Grantham & second-time visitors to The Gambia fished for four days on the boat with Cpt. Assan aka 'Ninja'.
Day one:
Trolling lures for the most part of the day along the coastline at Cape Point, Mantel, and Senegambia reefs – plenty of barracuda around, many strikes, seven barracuda boated, biggest 22lb. They finished their day light tackle bottom fishing on Mantel reef – a mix of species caught using local fresh shrimp for bait.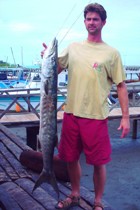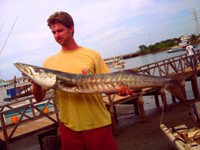 Day two:
Back to the trolling grounds - not the same concentration of fish around – one barracuda boated on Cape Point reef. The rest of the day was spent fishing live bait, cut fish baits and shrimp over Mantel reef – mix of reef fish caught including red snappers.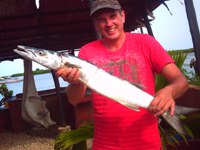 Day Three:
The decision was made to head-off to the mouth of the Gambia River (Barra) to troll some big deep water lures & target the large Guinean Barracuda. Trolling 'Mann's Stretch' 30+ & 40+ lures with a red-head sea-snake around the turn of the tide provided two hard strikes with one fish staying on for a 10 min fight before pulling the hook. In the afternoon they cruised into the creek system to target a pod of tarpon on a deep junction. Multiple fish could be seen rolling - casting lures and jigs to the group but could not entice a strike from the tarpon.
Day Four:
Back to the River mouth fishing the deep lures produced one Barracuda of 19lbs. The rest of the day was spent anchored on the sandbanks at Cape Point bay catching a mixture of fish including many good sized Butterfish.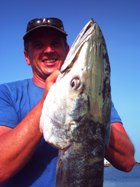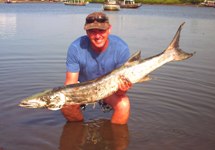 We are not always there to capture your fish catches on film so if you have been fishing onboard 'The African Angler' and have some fish photos you would like us display - please email them to us or alternatively feel free to upload your latest fish pics to our Facebook Page.

Visit our Facebook Page

SEE BOAT CHARTER PRICES