LATEST 'GAMBIA FISH' CATCHES

PHOTO GALLERY ARCHIVE (below

1. Fish Catches: Main Page
2. Fish Catches: March/April/May 2010
3. Fish Catches:January/February 2010
4. Fish Catches:October/November/December 2009
5. Fish catches: End May/June/July 2009
6. Fish catches: March/April/May 2009 (this page)
7. Fish catches: January/February 2009
8. Fish catches:October/November/December 2008
(Featuring the Giant Cuda's - Size does matter!)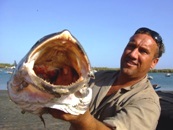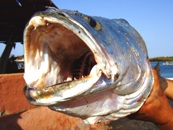 FEATURING THE 'CASSAVA-CROAKER'

Big runs of Cassava over the reefs and sandbars produced multiple catches for our anglers. One memorable day in particular was when David Smith from Felixstowe caught over 12 of these fish - the biggest weighing 11kgs.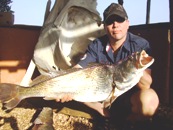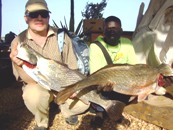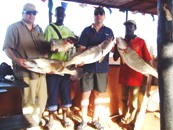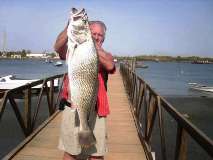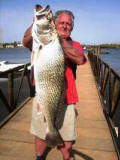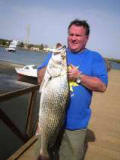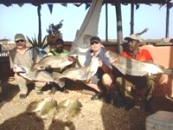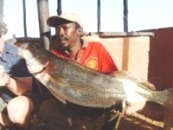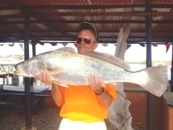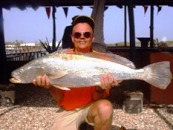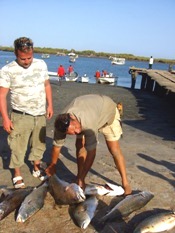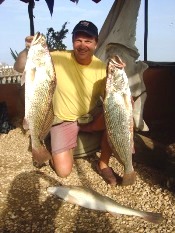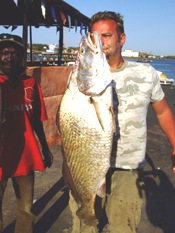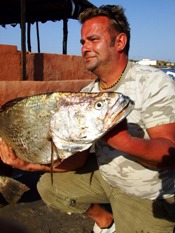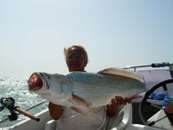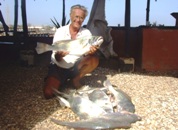 ---
A variety of Jacks, Pompano's, Barracuda,Sea Snakes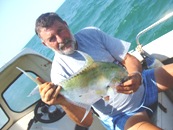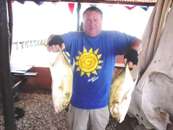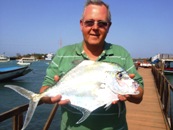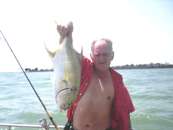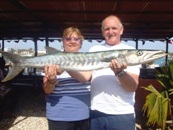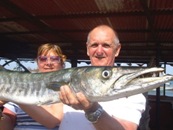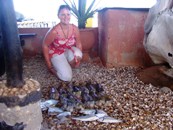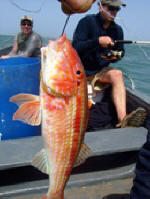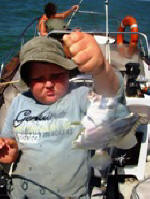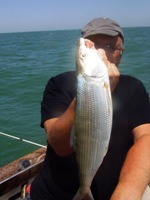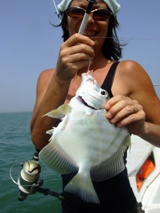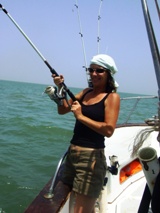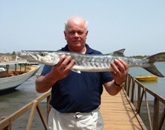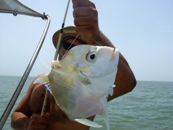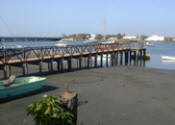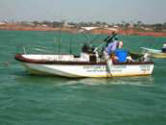 We are not always there to capture your fish catches on film so if you have been fishing onboard 'The African Angler' and have some fish photos you would like us display - please email them to us or alternatively feel free to upload your latest fish pics to our Facebook Page.

Visit our Facebook Page

SEE BOAT CHARTER PRICES






Latest Catches
March/April/May
2009 in The Gambia



Fishing in The Gambia - What's Available
General Descriptions

TARPON FISHING
Fish for giant Atlantic Tarpon in The Gambia river estuary.......Read More




REEF FISHING
Sport Fishing on the inshore reefs & sandbars...............................................Read More


CREEK FISHING
Light tackle species fishing in the oyster mangrove creeks...............Read More




SHORE ANGLING
Shore Angling Safari's along Gambia's unspoilt coastline.................Read More

THE BOAT - Skippers - Location


Our Boston Whaler boat will get you to all major fishing grounds within 30 mins.........................................Read More


FISH SPECIES OF THE GAMBIA

To name a few...........

West African Pompano....Barracuda & Guinean Barracuda.... Butterfish....Cassava-Croaker.... Catfish.... Cobia..... Grouper.... Giant West African Threadfin....Guitarfish.... Halibut....Nine-Bone (Ladyfish).... Long-neck Croaker.... Jacks (Trevally & Crevelle)......Snappers......Spanish- Mackerel....Large Rays....Tarpon....Tigerfish.....

For real life experiences of fishing in The Gambia read our Featured Articles by John Wilson and our 'Fishing Tales from The Gambia' by Daddy Chabi - Summertime Blues? - Never
& Beautiful Butterfish












David Smith from Felixstowe.



































































---

Angel Fish, Butterfish, Red Mullet, Bone Fish,