TIGERFISH FISHING
IN THE GAMBIA RIVER
West Africa

Excellent fishing is available in the immediate fresh water regions around McCarthy Island 180 miles up the Gambia River at Georgetown.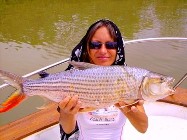 JOIN US ON OUR TIGERFISH EXPEDITION !
Angling is carried out at various places around prominent features; deep channels and sandbanks, sunken trees and rocky outcrops.

Fishing for Tigerfish is usually carried out in two sessions; early in the morning and early evening using lure fishing methods: slow trolling a variety of lures along the edges of the river and around marked features provide the most consistent strike rates. They can be caught on brightly coloured lures and spoons trolled or retrieved with a medium spinning rig. The lure must be tied with a steel trace to stop it being bitten off. Drift or bottom fished fish fillets or live baits sometimes prove effective. Hook-ups are not easy and for every 10 hooked you may land one!
About our............. West African Tigerfish

The Tigerfish is a great game fish and is very active once hooked. It is respected for its excellent aerobatic fighting abilities and will break from the water displaying powerful twists and turns. Tigers are strong and fast. Even a fish of 4kg will give a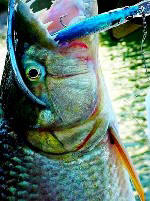 good fight often making several leaps out of the water in an attempt to free itself from its pursuer. This does not make them easy targets. The dental armoury with which they rip apart even the largest bait-fish also aids them in escaping the most well presented hook. Our Gambian Tigerfish have vivid colouration, large protruding teeth, short dorsal, small adipose fin (black with grey edging) and lateral stripes along the body. The Tigerfish are vvibratory and sight feeders and are known to take prey 40% of the size of the attacking fish.

Fishing for Tigerfish in the upper reaches of The Gambia River is a truly unique experience. This is a real 'African Angler' fishing Xpedition and is not for the faint hearted or easily defeated!

This is usually a 5 day/4nts fishing excursion & involves traveling 180 miles up The Gambia River to Georgetown by boat or road - We will tailor-make this trip to suit your requirements.
If you would like full details and our suggested itinerary sending to you or if you have any questions or queries please email us info@african-angling.co.uk

Best fishing: Dec to May
Preferred duration: 1 wk trip/4 or 5 nts at the camp with 3 or 4 days boat fishing
Preferred number of anglers per boat: 2
Fishing Methods: lure fishing (trolling), spinning, bait fishing (live and fresh cut baits)
The Accommodation: tourist bush camps - The facilities include reception, bar & restaurant, tented or round-house accommodation - en-suite toilets & showers.
Boats: 7 mtre fiber glass skiffs
Main target species: West African Tigerfish
Other species available: Vundoo catfish, Silver catfish, Electric catfish, Threadfin Salmon, African pike plus many other indigenous species.
Average Hook-ups: can be up to 10 hook-ups per day - 25% landing catch rate.
Average Size: 5 to 15lbs.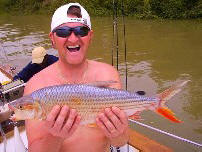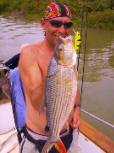 African Angler Video Lounge:
See our short video footage Fishing for Tigerfish from the Gambia River, West Africa, May 2009 Expedition!

video length = 59 secs.

Tigerfish Gallery
A variety of Tigerfish photos

IGFA World Record Tigerfish - The Gambia








about
TIGERFISH
in The Gambia



Fishing in The Gambia - What's Available
General Descriptions

TARPON FISHING
Fish for giant Atlantic Tarpon in The Gambia river estuary......Read More




REEF FISHING
Sport Fishing on the inshore reefs & sandbars.............................................Read More


CREEK FISHING
Light tackle species fishing in the oyster mangrove creeks..............Read More





SHORE ANGLING
Shore Angling Safari's along Gambia's unspoilt coastline..............Read More




THE BOAT - Skippers - Location


Our Boston Whaler boat will get you to all major fishing grounds within 30 mins.....................................Read More

Visit our Facebook Page



The Living River

The Republic of The Gambia is named after its majestic river which is one of the most unspoilt water-ways in West Africa. It runs for 1,100 km from its source in the Futa Jalow highlands in the Republic of Guinea to its estuary mouth in The Gambia. 600km of the river is in The Gambia where the river meanders along the entire length of the country. The Gambia River splits the country into two halves (north & south) and its banks are bordered by sub-tropical forest, bamboo and mangrove swamps.

The Gambia supports a huge amount of marine life. The silt based estuary is rich with shrimp and shellfish, cuttlefish and cru-stations. These provide a base food source for many of the oceans inhabitants. Large shoals of herring and shad are prolific in these waters providing a constant link in the food chain for larger predators. Atlantic Bottlenose and Grey Dolphins roam freely from the open ocean to the furthest saltwater regions of the river. West African Manatee ply this mighty water-way up to the fresh water regions grazing on sea grass or the lush vegetation of the river banks. Atlantic Turns, Pelicans, Fish Eagles and Ospreys attack the water from above praying on the surface swimmers whilst giant Green and Leatherback Turtles and fresh water Terrapins scour down below. Although rarely seen crocodiles can be found along the entire length of the river living deep in the saltwater mangroves camouflaged by the dense foliage. Hippos live in perfect harmony in the upper fresh water regions of The Gambia River. Family groups roam freely grazing on the lush vegetation and unfortunately, at times, on the farmer's rice fields. Over-all The River Gambia provides a stable marine environment for a great number of its inhabitants.

McCarthy Island is situated approximately 300km up-river. Lying at the end of the Central River Division it is the only populated island on the river. Its main town is called Janjanbureh which is also known as Georgetown and is one of the oldest townships in The Gambia. Once hailed as the 'up country capitol' this old 2nd city of colonial days used to be a busy trading center. Remains of colonial architecture can still be seen in the form of derelict river-side warehouses which used to store goods such as gold, groundnuts and cotton for transportation westward down the river.

Today the island benefits from its farming, rice and groundnuts and fruit plantations which flourish in the fertile soil. The pace of life is slow and very laid back with probably the most activity going on at the Armitage High School, the Gambia's only boarding school. Janjanbureh is also the administrative centre for the Central River Division which has its headquarters there. Steeped in history, tradition, culture and located in some of The Gambia's most unspoilt natural environment, McCarthy Island is truly 'The Heart of The Gambia!'