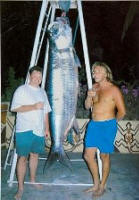 TARPON FISHING
October - May

in
The River Gambia



Photo:
Carl Pashley with his 303lb tarpon &
skipper Mark Longster



Tarpon are by far the most powerful game fish of The Gambia. These extraordinary fish can be found on both sides of the Atlantic. Here in The Gambia they can be targeted using a variety of fishing methods. The weight of a tarpon in The Gambia can range from 15lb to 250lb, with numerous fish having been caught over 100lbs and our largest standing at 303lbs.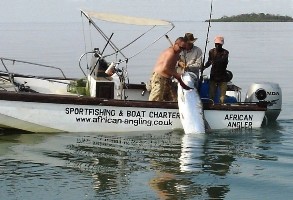 Photo: 210lb tarpon - released!
Angler: David Bate & fishing partner, George Hollingberry guided by Capt. Bala Moses.

Tarpon can be caught in The Gambia year-round but the best time to catch the larger fish, in the mouth of the river Gambia, is the beginning of October through to the end of May. The Gambia has some of the largest tarpon in the world - targeting the correct tides is an important factor.

Hook ups are not uncommon and on occasion you can see tarpon roll by the hundreds. They give their presence away when they periodically rise to the surface to gulp air.

Sometimes known as the 'SilverKing' - these fish are famed due to their often large size and their habit of making wild, spectacular leaps after being hooked.
We have picked out the best set of tides in each month to fish for the tarpon. These sets of tides have proven to be the most productive over a number of years.

If you are planning to visit The Gambia and are interested in targeting the larger tarpon let us know and we will advise you of the best time to come so that your catch rate & fishing opportunities are at a maximum.

--------------------------------------------------

TARPON FISHING
May to September

As an exciting alternative to targetting the larger tarpon in the River Mouth, during Gambiaís summer months May to

September pods of smaller tarpon are prolific along the southern coastline of The Gambia.

Feeding close to the shoreline these tarpon weighing between 15lb and 60lbs are a delight to catch on lighter tackle matched to the task - you against the fish! The tarpon are aerobatic fish & have amazing fighting spirits - they jump wildly in protest to being hooked, but can be handled on fairly light gear if you know how to apply the pressure. They are often caught in shallow waters using live-bait, & float fishing methods and if you are a keen fly fisherman then here is your chance to throw a fly.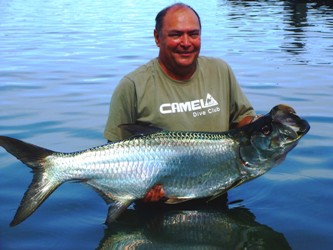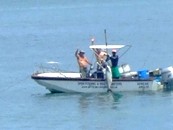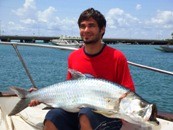 Where these majestic fish are concerned, you will be happy to know that African Angler practices Catch and Release wherever possible.
Contact us

We are happy to answer all of your questions.




about


TARPON




FISHING




in The Gambia






Fishing in The Gambia - What's Available
General Descriptions

REEF FISHING
Sport Fishing on the inshore reefs & sandbars........................................Read More




CREEK FISHING
Light tackle species fishing in the oyster mangrove creeks..........Read More


SHORE ANGLING
Shore Angling Safariís along Gambiaís unspoilt coastline..........Read More





THE BOAT - Skippers - Location
Our Boston Whaler boat will get you to all major fishing grounds within 30 mins.................................Read More


RECENT CATCHES - New!!
Take a look at what our Angler's have
been reeling in .............Take a Look

FISHING HOLIDAY Package




3 day's sport fishing

with 7 nts
accommodation at Ngala Lodge.... ...........................................Read More

Visit our Facebook Page

TARPON PHOTO GALLERY