Tarpon Fishing
Saltwater Fish Species of The Gambia - West Africa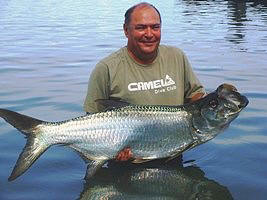 Identification
Tarpon Types: Atlantic
Gambian Names: Walidor or Wano
Scientific Names: Megalops Atlanticus
General Catch Size: 15lb to 300lb
African Angler Best: 303lb
Angler: Carl Pashley
Captain/Guide: Mark Longster
Best Baits: Live Baits, Herrings, Mullet, Croakers, Blue Swimmer Crabs, Dead-Baits, Cut Fish Baits, Bonga, Shrimp & Cuttlefish. Lures: Deep Divers, Rapala CD16/18, Coast Hawk, Surface Floaters, Poppers, Spinners and Fly.

Top Tips: Tarpon are swimming dustbins & will eat almost any bait if it is presented correctly & especially if it can be swallowed whole by the fish.
Tarpon will take bait at all depths of water so it pays to fish a range of baits staggered at different depths, floated and free-lined surface live baits set well back down-tide from the boat. Mid-water baits on light leads so that they are held off the bottom by the current and dead-baits pinned on the bottom & again a range of different baits often bring the best results.

Once tarpon come across the bait they will readily but tentatively suck it in before crushing it in between their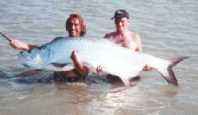 powerful grasping jaws. This gives a tap-tap effect on the end of the rod followed by an unstoppable powerful run added to by frenzied aerobatics as the fish leaps from the water flaring it's gill plates, twisting in mid-air and crashing back into the water in an effort to free itself from the angler!

Large tarpon (100lb to 300lb) should be fished on 30lb to 50lb class rods, quality multipliers loaded with 30lb to 50lb monoline, 100lb quality swivels with 100 to 150lb abrasive mono main line, quality 5/0 to 7/0 live bait or circle hooks.

Small tarpon 10lb to 100lb can be taken on light tackle 12lb to 20lb class outfits with 20lb to 30lb main-line, 60lb to 100lb mono leader. Smaller fish tend to be more aerial than the larger tarpon & therefore tire themselves out more quickly, so they can be beaten to the boat on a much lighter outfit. Many guides will tell you to bow and lower the end of your rod to a leaping tarpon however you will find swearing and praying also works very well!!
When - All year-round

Recommended TACKLE for catching Tarpon

Rod: Light Tackle: 12lb to 20lb Jerk bait rods or spinning outfits, up-tider
Heavy Tackle: 30lb to 50lb 7ft to 9ft boat rod
Reels: Light Tackle: quality fixed spool reel or casting multiplier, Abu Ambassador 9000/10000c or similar
Heavy Tackle: Multiplier to hold 30lb or 50lb line, Penn Senator 5/0, 6/0 Shimano TLD 25/30
Main Line: 20lb to 50lb mono or braid
Trace Line: 80lb, 100lb & 150lb Abrasive Mono
Swivels: 40lb to 100lb
Hooks: Owner 5/0 to 7/0 Live bait hooks or circle hooks/Mustard 5/0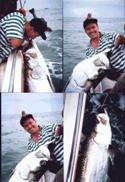 African Pompano
Barracuda
Guinean Barracuda
Butterfish
Captain Fish (Threadfin)
Cassava
Jacks
Ladyfish
Nine-bone
Shark
Snappers
Spanish Mackerel
Rays
Tarpon


Mark Longster





Fish Species
of The Gambia



Fishing in The Gambia - What's Available
General Descriptions

TARPON FISHING
Fish for giant Atlantic Tarpon in The Gambia river estuary........Read More




REEF FISHING
Sport Fishing on the inshore reefs & sandbars...............................................Read More


CREEK FISHING
Light tackle species fishing in the oyster mangrove creeks................Read More





SHORE ANGLING
Shore Angling Safari's along Gambia's unspoilt coastline................Read More




THE BOAT - Skippers - Location




Our Boston Whaler boat will get you to all major fishing grounds within 30 mins.......................................

Read More