CREEK FISHING

Light tackle sport fishing in the calm waters of Gambia's saltwater
creeks & bolongs

All year-round

The Gambia's estuary is fringed on its banks by dense mangrove swamps interconnected by a maze of saltwater creeks & bolongs.
These beautiful, wild water-ways make a perfect habitat for a range of tropical fish and is an ideal environment for the light tackle angler. Sheltered from the Atlantic Ocean, the bolongs' winding water-ways are always calm and appealing to the boat anglers who don't like the rough waters & enjoy catching a wide range of fish species.
Angling methods include: both bait and lure fishing.



Target Species include: Barracuda, Threadfin Salmon, Snappers, Ladyfish, Butterfish, Angel Fish, Cassava plus many localised species.



This is an enjoyable day's fishing which appeals to all age groups, novice or expert & families alike, as it often provides plenty of fish of many different species. It is also very popular with the specimen hunter and our fresh water anglers.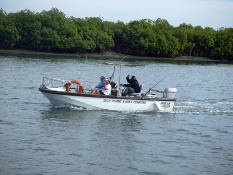 See Boat Charter Prices

Contact us

We are happy to answer all of your questions.




about
CREEK
FISHING
in The Gambia



Fishing in The Gambia - What's Available
General Descriptions

TARPON FISHING
Fish for giant Atlantic Tarpon in The Gambia river estuary.......Read More




REEF FISHING
Sport Fishing on the inshore reefs & sandbars..............................................Read More


SHORE ANGLING
Shore Angling Safariís along Gambiaís unspoilt coastline..............Read More





THE BOAT - Skippers - Location
Our Boston Whaler boat will get you to all major fishing grounds within 30 mins.....................................Read More


RECENT CATCHES - New!
Take a look at what our Angler's have
been reeling in .................Take a Look
Visit our Facebook Page





CREEK FISHING & LAMIN LODGE

Lamin Lodge is a three storey wooden bar & restaurant built on slits on the river bank with beautiful views overlooking the creeks and bolongs - The restaurant offers an extended menu of both European and African dishes and is one of the only restaurants who serve delicious mangrove oysters picked from the Gambia river every morning.

If you would like to visit Lamin Lodge for lunch or just visit the lodge to enjoy the magical sights & sounds of the river you have the option to do this during your day creek fishing. Please let us know on the morning before embarkation if you wish to make a stop at Lamin Lodge.