Nine-Bone
Saltwater Fish Species of The Gambia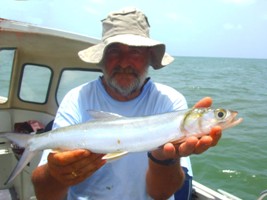 Identification
Other Names: American Ladyfish
Gambian Names: Nine-Bone
Scientific Names: Elops Senegalensis
General Catch Size: 5lbs to 15lbs

Best Baits: They will readily strike small lures, mepps, tobies, rapala's, divers, and floaters - they are also quick to the fly. It's attack is swift. They are also fished for on shrimp - whole or pealed. Also small live herrings, small cut fish strips, crabs - fiddler or blue swimmer attract the Nine-bones.

Top Tips: The Nine-bones are an excellent & exciting light tackle quarry. They are aerial fish and will leap frequently after being hooked. You can come across Nine-bones at anytime. They like sandbars, muddy bottoms, surf-lines, beach fronts, and rocky reefs. If trolling lures for Barracuda it pays to run a small diving lure behind and outside of your pattern. This will often entice the Nine-bones to strike if you run across them.
If you notice bait fish being disturbed on a shore line or open water, Nine-Bones are often underneath - throw a spinner into them.
Prime Time: Flood and ebb tides along the beach front. Slack tide periods in open water. Bait fish tend to be less active and easier to target for the predator.

When - All year-round

Recommended TACKLE

Rod: 12lb to 20lb - Light shore outfit or spinning rod
Reel: Fixed spool or small multiplier
Main Line: 15lb to 20lb mono
Line Trace: 30lb to 40lb
Swivel: 40lb to 60lb
Hooks: 1/0 to 3/0 or 2/0 live-bait hook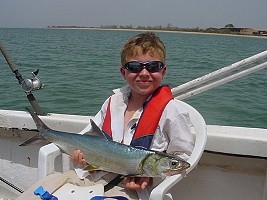 African Pompano
Barracuda
Guinean Barracuda
Butterfish
Captain Fish (Threadfin)
Cassava
Jacks
Ladyfish
Nine Bone
Shark
Snappers
Spanish Mackerel
Rays
Tarpon
Mark Longster

SEE BOAT CHARTER PRICES



Fish Species
of The Gambia



Fishing in The Gambia - What's Available
General Descriptions

TARPON FISHING
Fish for giant Atlantic Tarpon in The Gambia river estuary........Read More




REEF FISHING
Sport Fishing on the inshore reefs & sandbars...............................................Read More


CREEK FISHING
Light tackle species fishing in the oyster mangrove creeks................Read More





SHORE ANGLING
Shore Angling Safari's along Gambia's unspoilt coastline................Read More




THE BOAT - Skippers - Location


Our Boston Whaler boat will get you to all major fishing grounds within 30 mins.......................................Read More