FEATURED ARTICLE
written by John Wilson
t.v angling presenter of the 'Go fishing' series

'Missile Minded
Barracuda'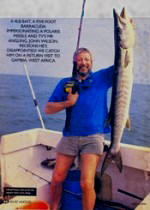 Coloured water hid the entanglement of rocks 60ft below and with the tide now ebbing strongly, we expected something lean and hungry to sniff out and come crashing into our baits. We weren't to be disappointed!
Out of the blue, something unseen made off with a 4lb Spanish Mackerel concealing a double 10/0 hook rig. The reel started to squeal like a stuck pig with that uncanny suddenness only associated with shark fishing and when I slammed home the clutch to strike I was certainly not expecting a missile-minded barracuda. This projectile veered across the tide going like a bat out of hell and performed multiple Polaris impersonations despite the heavy shark trace and 50lb outfit which should have slowed it down, but appeared to have little effect. Moreover the 'cuda' had completely swallowed the Spanish Mackerel. But then it was close to five feet long and better than 30lb. Not a huge specimen by any means but nice and typical of the quality in surprises you can expect when probing the deep coloured and incredibly fertile waters of the Gambia River. Yes, I was back in Africa again, guest of and old pal Mark Longster who I had not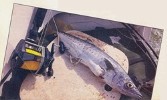 seen for nearly four years and whose unexpected fax simply said: 'John, the bottom fishing right now is fantastic. Do you fancy a week's action?' Well, who would need asking more than once, I certainly didn't and was straight on the phone to Thomson Holidays to arrange an in-expensive package B&B flight for the middle of November. Regular viewers of my TV series Go Fishing may recall that Mark and I teamed up when a big lemon shark came along and bang on cue for the cameras, provided some of the most exciting footage we've ever shown on television. The programme also included the usual assortment of weird and colourful critters you would expect to catch from the mangrove creeks.
But on a personal level, and due to the lack of time plus the pressure of putting these sequences together, I felt I had rather missed out on the unbelievable choice of inshore boat fishing over the reefs and sand bars that the Gambia River has to offer... hence my keenness to return.
There are, in fact, over 30, yes 30, different species within that meaty, arm wrenching 30lb-50lb weight bracket that you could possibly bump into, and half of these actually top three figures.

Additional to seven species of sharks there are several types of ray and guitarfish. Several species of the 'Jack' family, African pompano, leer fish, cobia, several different types of snappers, kujeli (Threadfin salmon), cassava, mackerel, tuna, tarpon... have I whetted your appetite?
Mark has specialised more and more on the range of inshore reef fishing options since my last visit, obtaining yet another boat enabling him to pass easily beneath the famous 'Denton Bridge' by the now defunct peanut factory straight out into the Atlantic, and literally within a few minutes motoring distance of numerous productive reefs and sand bars. Those who have already fished there will know full well that large craft can only get out through the river mouth and into the Atlantic by navigating a complex network of mangrove creeks which eventually lead to behind the harbour and around the coastline. All of which eats away at precious fishing time. So Marks' investment has more than paid off resulting in continuous bookings. There is, of course, nothing to stop you hiring a rowing dingy to fish pieces of shrimp in the mangrove creeks, or even as some do, though it is exceedingly muddy, walk along the mangroves and banks to fish.
Standard carp - pike gear with a 10lb-15lb line will handle most likely customers, though you may have to go for the occasional long row or walk with a stingray! You can stay anchored out in deep water right in the mouth of the river which is some four miles wide, or motor inland where it is twice the width and fish the strong tide flow close to Dog Island and stick it out with big baits on the bottom.
You can troll Rapala Magnums around the inshore reefs and even eventually find blue water and consequently add still more species to the list of those expected. Though for this you need a large, fast boat and to motor at least 20-30 miles to evade the colour spewed into Atlantic by the Gambia River, which is over 300miles in length and with a tidal influence of over half that distance.
My plan was to simply enjoy sport with various battlers around the inshore reefs and sand bars. A trip to the local market close by the Sunbeach Hotel quickly gave an excellent indication of what the local pirogue fishermen who anchor over the inshore reefs were taking on their hand lines. Big jacks, kujeli, snappers and even cobia were all for sale. I was surprised about seeing cobia, called black salmon locally, because I assumed they were really a blue water game species but specimens approaching 100lb were there for the taking. Unfortunately a biggie never came my way although I did hook into one which characteristically rose up from the bottom, as opposed to most species which attempt to hang around your line around the nearest rock, but slipped the hook after all too short a fight.


Article
'Missile Minded

Barracuda'



Fishing in The Gambia - What's Available
General Descriptions

TARPON FISHING
Fish for giant Atlantic Tarpon in The Gambia river estuary........Read More




REEF FISHING
Sport Fishing on the inshore reefs & sandbars...............................................Read More


CREEK FISHING
Light tackle species fishing in the oyster mangrove creeks...............Read More





SHORE ANGLING
Shore Angling Safariís along Gambiaís unspoilt coastline...............Read More

THE BOAT - Skippers - Location


Our Boston Whaler boat will get you to all major fishing grounds within 30 mins.....................................Read More
RECENT CATCHES - New
Take a look at what our Angler's have
been reeling in ..................Take a Look
Visit our Facebook Page
Those dogged, hard fighting red snappers however didn't get away. Known locally as cuberra, the most common of the big snappers were successfully lured on whole belly fillets from a bonga. And it's interesting to note that these locally netted plankton eaters, the most common fish seen in the markets, is to all intents and purposes related to our alias shad. Now a 30lb outfit to catch a 30lb snapper may perhaps seem slightly over the top but these unbelievably strong warm water reef dwellers quickly shred lighter lines through the rocks of anyone feeling more sporting. It's hit and hold arm wrenching stuff at the very best.

Holding the rod with the reel out of gear and the clutch preset quite firmly usually sees many more slamming takes converted into snappers in the ice box, due to the uncanny wariness of this fully scaled, one might even say carp-like fish. But there the resemblance certainly ends because the cubera's teeth are strong dog-like canines, and its fighting capabilities like all saltwater tropicals put carp to shame.

Talking of fighting, one fish I hoped to get amongst during my Gambia break was the mighty tarpon. Mark had taken them in the river mouth to 190lb a few weeks previously but the surface was far too ruffled during my stay for visually locating their characteristic rolling on the surface in large groups. What we did latch on to however was the tarpon's younger cousin, the ladyfish, and what a splendid acrobatic fish it is. Locally these silver streaks looking for all the world like a stretched out herring are locally called nine-bones and we boated them up to 10lbs on lures.

A rapala 'slither' in lime green really did the business when trolled through shallow water no more than six feet deep between huge banks of sand which has built up around the outside entrance to Denton Bridge. Anchoring in these long rolling waves also accounted for them.

We simply made long casts to the side presenting small mullet or herring live-baits on size 2/0 hooks tied direct to 12lb line, with an ounce bomb attached via a link fixed two feet up the line using four-turn water knot, and used the waves to gently bump the bait across the tide.

An exciting technique which also took those rather prehistoric looking flat fish called bastard halibut, which also took rapalas, and some jumbo king sized kujeli. These fish with a built-in jelly-like transparent nose are actually threadfin salmon and while those we took went to 20lb Mark had seen them topping over 150lbs.

What a place! I cant wait to get back to The Gambia.

Featured Article
'Missile Minded Barracuda'
Taken from 'Boat Angler' - March/April Issue
Written by John Wilson



Read More Featured Articles by John Wilson
Fishing in The Gambia
Gambia 'Top of Big Name Game'