FEATURED ARTICLE
written by John Wilson
t.v. angling presenter of the 'Go Fishing' Series

'Gambia top of
big-name game'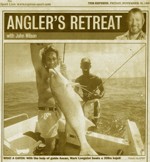 To those of us who are fortunate in being able to regularly fish around the world, something that eventually becomes apparent and most confusing is the endless list of colloquial names given to the same species of fish.

Take for instance, a recent trip my wife Jo and I made to The Gambia. Within these warm and fertile offshore waters along the west African coast fed by the might of the Gambia River, whose estuary is some four miles wide at the capital of Banjul live numerous species of sport fish - many of which have been given strange labels.

One such fish, weighing over 100lbs and of which there are two local variants, is the Threadfin Salmon. This is best known for its strange transparent snout, and its double pectoral fins - the lower which is divided into four or five long, trailing filaments that no doubt serve as feelers in murky water. Similar to our gurnards.
In The Gambia this fish is locally called a kujeli, but in America it is known as King Threadfin, yet in south Africa, bastard mullet is just one of its names. See what I mean.
It was great to be out in Gambian waters again with friends Mark Longster and Tracey Day who are based at Denton Bridge and who offer a wide choice of both creek and sport fishing charters, plus heavy tackle fishing trips targeting larger species such as Shark, Tarpon, & Rays.
We started with some bottom fishing over Mantel reef, a huge series of sandbanks just of Banjul, using shrimp bait and quickly got among several hard fighting kujeli to over 30lbs. And every time I catch one, I ponder why Mother Nature equipped them with a transparent nose. Having acquired some small mullet from one of the local nets-man, Mark suggested we then try the outgoing tide over the rocks at Bakau a little way down the coast from Cape Point. He certainly knows his local hot spots, for within minutes of anchoring in around 20ft of water, a bass-like species known locally as cassava started hitting our baits presented just off bottom on light tackle. These terrific scrappers have a pearly pink sheen across their heads, flanks with fine black markings and often yellow stain inside their powerful jaws. We caught them to around 35lbs. In south Africa the species is called kob, while in Australian waters it is better known as jewfish. When fishing into the Atlantic from Dakhla in Morroco several years back, I caught the very same fish, which the locals called corvina.
There is no mistake about the tarpon, which grows to 8ft plus, jumps repeatedly and looks to all intents and purposes like a giant herring. In Gambian waters it reaches weights approaching 300lbs.
At the end of our week we teamed up with Don Metcalfe from Weston-super-Mare for three consecutive afternoons' tarpooning! While we never managed to get anything close to the boat , three were hooked on live mullet bumped down-tide close to the bottom in a 50ft deep channel off Dog Island. I dipped out completely while both Mark and Don each hooked into big tarpon, which shed the hook after only their second jumps. Don then connected to another, and we are talking tarpon of maybe 200lbs plus here, which stayed on. But just when he was beginning to make line after playing it for over 10 mins, the hook inexplicably fell out, I wont repeat what we all said!
Featured Article
taken from 'Angler's Retreat'
The Express Friday November 19th 1999
with John Wilson


Article
'Gambia top of
Big-name game'



Fishing in The Gambia - What's Available
General Descriptions

TARPON FISHING
Fish for giant Atlantic Tarpon in The Gambia river estuary.........Read More




REEF FISHING
Sport Fishing on the inshore reefs & sandbars.................................................Read More


CREEK FISHING
Light tackle species fishing in the oyster mangrove creeks.................Read More





SHORE ANGLING
Shore Angling Safariís along Gambiaís unspoilt coastline.................Read More




THE BOAT - Skippers - Location


Our Boston Whaler boat will get you to all major fishing grounds within 30 mins........................................Read More
RECENT CATCHES - New
Take a look at what our Angler's have
been reeling in ...................Take a Look
Visit our Facebook Page

Read More Featured Articles by John Wilson
Fishing in The Gambia
'Missile Minded Barracuda'