General Information on
The Gambia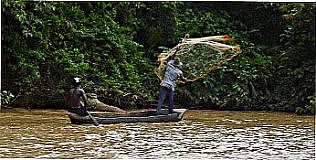 The Gambia is an ideal fishing holiday destination for the UK & European Angler being approximately 6 hrs flying time from all major airports.

The Gambia's multitude of fish species makes a perfect fishing holiday, but also offers an excellent array of birdlife, empty golden beaches, awesome oyster laden creeks, many sporting activities, river excursions, historical & cultural tours, great restaurants and in-expensive food & beer to enjoy!
Here are some essential facts & handy tips to know before you travel.
Geography: The Republic of The Gambia is the smallest country on the continent of Africa with a total land area of 11,295km². It is almost entirely landlocked by Senegal, except for its Atlantic ocean coastline. In turn, the country surrounds The River Gambia from its delta to 330km inland and is never more than 44km wide at its widest point. The country is divided into 5 divisions. Those being Banjul, Western (Brikama), North River (Kerewan), Lower River (Mansa Konko), Central River (Janjanbureh) and Upper River (Basse Santa Su).
Capital: Banjul (formerly Bathurst)
Population: 1.5 million
Largest City: Serrekunda
Politics: Democratic - President HE Alhagie Dr Col Yahya A J J Jammeh
Religion: 90% Islam 10% Christianity and others
Time Zone: Greenwich Mean Time (GMT) or sometimes referred to as 'Gambia Maybe Time'
Language: The most common is English (7 other tribal languages including Wollof & Mandinka)
Climate: Sub-tropical the average temp being 30ºC the main rains fall August and September with a smattering of rain during June & July. The dry season is from October through May & the wet or 'green' season from June-September.
Currency: The Gambian Dalasi
Currency Exchange: Hotel receptions are the most convenient but you will get a far better rate in the Banks and official money exchange centers. Do Not exchange money with anybody in the street.
Credit cards: ATM's available (not always working). Some places will take credit cards but not widely used. Expect surcharges. Visa is accepted. Mastercard - not.
Telephone: Calling home from the hotel is expensive. Buy a local sim card if your mobile is compatible (Sim cards cost D50) Top Ups for both Africel & Gamcel are easily obtainable - handy for contacting local taxis & local friends and it is also a cheaper way to call home. (tel. code from Gambia 0044)
Getting about: The green tourist taxis tend to be quite expensive. These taxis are conveniently parked close to the hotel entrances. The yellow and green taxis (local) are in-expensive to use. Always agree a price with the driver regardless of which taxi you are using and don't pay until the end of your journey.
Don't bother to wait for a bus - you might never see one! Hiring a car/4x4 can be done from AB Rentals (a £500 refundable deposit is required). If you are hiring a vehicle from a local friend then make sure they have the necessary insurance cover.
Driving Licence: you are allowed to drive for 3 months in The Gambia before applying for a national driving licence.
Walking Around: relatively hassle free. Dress accordingly after all you are in a Muslim country. Do not carry around loads of money, credit cards, jewelry, passports etc - be sensible!
Medical facilities: There are now some good clinics available but still not up to European standard. It is essential that you are covered by the necessary travel insurance before you come to Gambia.
'Bumsters': a term used for the local nuisances. They are quite easy to spot as they will follow you on the streets trying to get into a deeper conversation with you. They are reasonably friendly persons who are looking for an easy profit! So remember to keep your wallet closed. When dealing with them be firm but polite.
Birdlife: an ornithologist's paradise.
Illegal stuff: cannabis and all other drugs are ILLEGAL.
Passport: You must be in possession of a FULL 10 year passport with a validity of at least 6 months after the return date of your holiday otherwise entry into The Gambia will be refused.
Insurance: Travel Insurance is essential.
Electricity: 220v: some places use 3 pin appliances and some 2 pin appliances.
Malaria:Take the prescribed precautions recommended by your doctor as The Gambia is a malaria risk country.








Info about
The Gambia



Fishing in The Gambia - What's Available
General Descriptions

TARPON FISHING
Fish for giant Atlantic Tarpon in The Gambia river estuary........Read More




REEF FISHING
Sport Fishing on the inshore reefs & sandbars..................................................Read More


CREEK FISHING
Light tackle species fishing in the oyster mangrove creeks..................Read More





SHORE ANGLING
Shore Angling Safari's along Gambia's unspoilt coastline.................Read More




THE BOAT - Skippers - Location


Our Boston Whaler boat will get you to all major fishing grounds within 30 mins........................................Read More

Visit our Facebook Page